2010 Will-Grundy Center for Independent Living "Ambassador of the Year"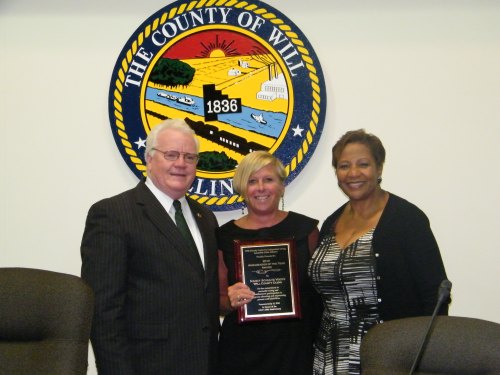 The Will-Grundy Center for Independent Living presented Will County Clerk Nancy Schultz Voots with the Ambassador of the Year award during the July 15 Will County Board meeting. The award is presented annually to coincide with the anniversary of the Americans with Disabilities Act which was signed into law on July 26, 1990.
"I am so touched to receive this award," said Voots. "I realize how people with disabilities are challenged and I wanted to help make our election process accessible for them. Our disabled residents don't want special treatment; they just want the same opportunities."
According to Pam Heavens, executive director for the Will-Grundy Center for Independent Living, the award is presented each year to an individual who demonstrates an exemplary dedication to the advancement of equal rights for all disabled people.
"We chose Nancy this year because she is truly dedicated to accessibility for all disabled residents," Heavens said. "She worked so hard to bring handicapped-accessible voting machines to disabled residents across the County."
Through a federal grant, Voots was able to purchase handicapped accessible voting machines for each of the 445 polling places in the County to ensure all disabled residents could participate in elections. These accessible voting machines have special features such as Braille and voice response which allow all disabled residents the opportunity to exercise their right to vote.
"I have one lady who votes using foot pedals," Voots said. "She tells us how important it is to her to be able to cast her vote."
Heavens added, "We are so blessed to have Nancy working with us. She is a true champion for Will County citizens with disabilities. "